Fifth Annual Central Iowa Yoga Retreat
Saturday, March 7th, 2015
9:00 a.m.-4:30 p.m.
Windsor Heights Community Center
Colby Park, 6900 School Street
Windsor Heights, Iowa 50324




Click to REGISTER

This retreat is open to all levels of yoga practitioners. It's going to be an AMAZING day! Please bring: a yoga mat AND BLANKET, any other props you wish, dress in layers (we are on a concrete floor), notebook/journal and pen, water bottle, sack lunch/snacks (refrigerator on site or lunch order option). Partial proceeds of Retreat to support DMARC Food Pantry. Let's all bring a canned food item to the event!
Saturday, March 7th, 2015 Agenda:

8:30 a.m. doors open


9:00-10:30 a.m. Session 1: Wake up with Ben Spellman (AKA: Good Vibes)
Join one of Des Moines most beloved teachers to get you moving in his unique one love style. This will set a great tone for the rest of the day.

10:30 a.m.-10:45 a.m. Break

10:45 a.m.-12:15 p.m. Session 2: Symmetrically Sound with Jen Bramble
"Symmetrically Sound" — Breathing, Rooting, Feeling, Enduring and Letting Go during your yoga practice. No matter what you call "yoga" for yourself, are you empowering your sense of awareness to left and right sides? Understanding their differences? And than not only side to side, but are you feeling your growth upward and your earth below you as you step, stand, sit, lean, fold and invert? Or how about is your front as strong and long as your back? As a former bodybuilder that practiced daily symmetry of all of the planes within our one unique body and mind, Jen's yoga theories and practice will heighten your awareness of your yoga. Cueing you with new ways to think and explore the pose that you struggle with or maybe the one you avoid because you have a fear you need to conquer. Let's overcome this fear or these fears together along with the support of our fellow yogi friends in this 75 min workshop. The culture of yoga is forever growing and these basic tips that Jen shares are proven and have sustained a successful yoga practice for her students and herself for more than 15 years.


12:15 p.m.-1:00 p.m. Lunch and Aerial Yoga Demonstration
Lunch: On your own. Fridge available or add catered lunch to your registration (order must be received by 2/23/15)
Veggie Hummus Wrap with Quinoa Salad $10
Homemade kalamata olive hummus and crisp fresh vegetables wrapped inside a spinach tortilla. Comes with a quinoa avocado salad with poblano hemp seed dressing. A nice light option for a day of yoga. *Vegetarian. Lunch prepared by The Grateful Chef. Past participants have loved the food and commented on generous portions


1:00 p.m.-2:30 p.m. Session 3: Embrace change with Sandi Hoover and Martha McCormick
All of life is about transition and change. Sometimes we welcome it, as when we change careers or hairstyles. Sometimes these new developments are anything but our choice—kids grow up and leave our nests empty; we see our first grey hairs in the bathroom mirror. Both kinds of change give us the butterflies of fear and anxiety.
But, as Thich Nhat Han says, "We need to see the garbage as beautiful because the garbage is in process of turning into the flower." On our mats we can find acceptance, peace and understanding of the changes we're going through. Sometimes asana can even help us reverse changes, especially as we age.
Asana mirrors reality in that the transitions pose the biggest challenge to stability. This early afternoon session will provide a dynamic sequence that will challenge you to keep your foundation strong through a series of poses that challenge your core and strength to those that let you breathe into the stretch.

2:30 p.m.-2:45 p.m. Break


2:45 p.m.-4:15 p.m. Session 4: Restore with Tiffany Thomas
It don't mean a thing if you ain't got that Yin. Find the balance to your yang. This restorative practice has the intention to restore your nervous system as well as release deeply held tension from both body and mind. Expect candles, soft music, soft movement, and an excuse to bring your favorite wooly socks to your practice. Learn how to dive deep, listen to your body, and let go of your very busy mind. A kind of practice guaranteed to leaving you feeling "M'mm M'mm good!". **PLEASE BRING A BLANKET FOR THIS SESSION!


4:15 p.m.-4:30 p.m. Closing remarks and goodbyes
Early Bird Event Fee $110 (registration due by 2/7/15. Regular cost of event after 2/7/15 is $145)
T-SHIRTS:
Super soft, high quality, fitted unisex style Tshirt printed by our yogi friend at TShirt Graphix in Beaverdale. $18. TShirt orders will be accepted through 2/23/15 with registration. Please type your size (Adult XS, S, M, L, XL) into 'notes' on your registration or email sandi@thefamilytreedm.com with your size. A limited quantity may be available for purchase the day of event for $20 each.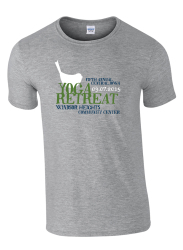 Cancellation/Refund Policy: Cancellations made up to 48 hours prior to event will be issued a full refund of event fee (less $7.50 for administrative costs). Cancellations received less than 48 hours prior to event will be refunded at 50% of event fee.
Questions? Call Sandi (515) 202-2584 or email sandi@thefamilytreedm.com