by Sandi Hoover, BSN, RYT500, PRYT
When discussing the word change in a recent Roots Prenatal Yoga class one of my students said that change is also known as the other 'C word'. For many people change can induce a sense of fear or dread. I brought this topic up for introspection and discussion with my expectant mama students as they their lives are currently all about change (changes in their pregnant bodies, changes in their home as they welcome their new baby, changes in relationships, etc.). It was interesting the hear how the women were interpreting change in their world and either embracing or resisting change.
One of my mentors shared this thought on change, "If you're involved in a new project and don't feel afraid, then maybe you aren't pushing your creative edge". Fear can be a catalyst for transformation, but being afraid is something many humans would prefer to avoid. A Course in Miracles suggests there are only two sides of a coin, one is fear and the other is love. I choose love! My mantra during extreme back labor with my second child was, "Replace the fear with love". I chanted this over and over with every contraction.
There is a wonderful new book from local Iowan author Deb Engle entitled, "The Only Prayer You will Ever Need". Her suggestion to use the prayer "Please heal my fear based thoughts…" has been such a welcome addition to how I release fear and process changes in my life. Put this book on your recommend reading list.
As a yoga teacher I have often shared the Hindu dedication story of Lord Ganesha with students. Ganesha is depicted as an elephant and with a mighty sweep of his trunk he sweeps obstacles from his pathway. Ganesha's mantra is OM GAM GANAPATI NAMAHA OM and can be used as a way of clearing the path to positive change, or at least finding the positive with change.
For most of my adult life yoga has played a huge part in how I process and integrate change in my life. When considering change here are a few suggestions of how incorporating yoga into your world can be useful:
1. Awareness of breath brings mindfulness. When I do yoga I unplug from outer distractions and move inward. This silence brings clarity.
2. Pay attention to your gut feeling/intuition. I use this as a starting point for knowing how to pray and ask for guidance.
3. Movement is your friend. Doing yoga asana (poses) helps me get out of my head and into my body.
4. Cultivate a meditation practice. This opportunity for stillness might be what helps me keep sane in times of change. When I least feel like I have time for meditating is truly when I need it the most!
5. Set goals with positive intentions. I've learned it's one thing to plant seeds, but it's another to know that my words create my reality.
6. Get a support system. Develop a buddy system. Ask yourself who is most dynamic person you know? Spend time with them, ask them how they work with change.
I shared the above suggestions at a workshop I co-led at the 2015 Central IA Yoga Retreat. We had participants write on poster boards ways they have embraced or resisted changes that have happened to them and/or changes they have manifested in their lives. It was a really powerful exercise and here are a few of their wise words:
RESISTING CHANGE= staying calm under pressure, taking the easy way, let go of the idea that busy=happy, i have a past, but i don't live there anymore, being inadequate, losing a loved one, stay positive/stay strong, different routine, change is challenging, death of a parent since no time to prepare hard to accept, false perception, loss of partner, separation from abusive partner but abuse continues, death as a loss of a dream, no opportunity to do differently, physically damaged, injury, illness, distance (growing apart), anger, frustration, anxiety, want Mother Earth to be respected by all and healed
EMBRACING CHANGE= positive change=healing powers, new job to manage stress, love w/o judgement, change=a positive challenge, be you-embrace that, breaking out of my shell and learning to live boldly, gratitude, seeing my worth, career change to become more present with my family, opportunity, relearning my marriage after retirement, passion, constant, be in a relationship with myself, love deeply, taking on triathlon training fully, becoming a fully engaged homeschooling mom, big love, trust my heart's desire,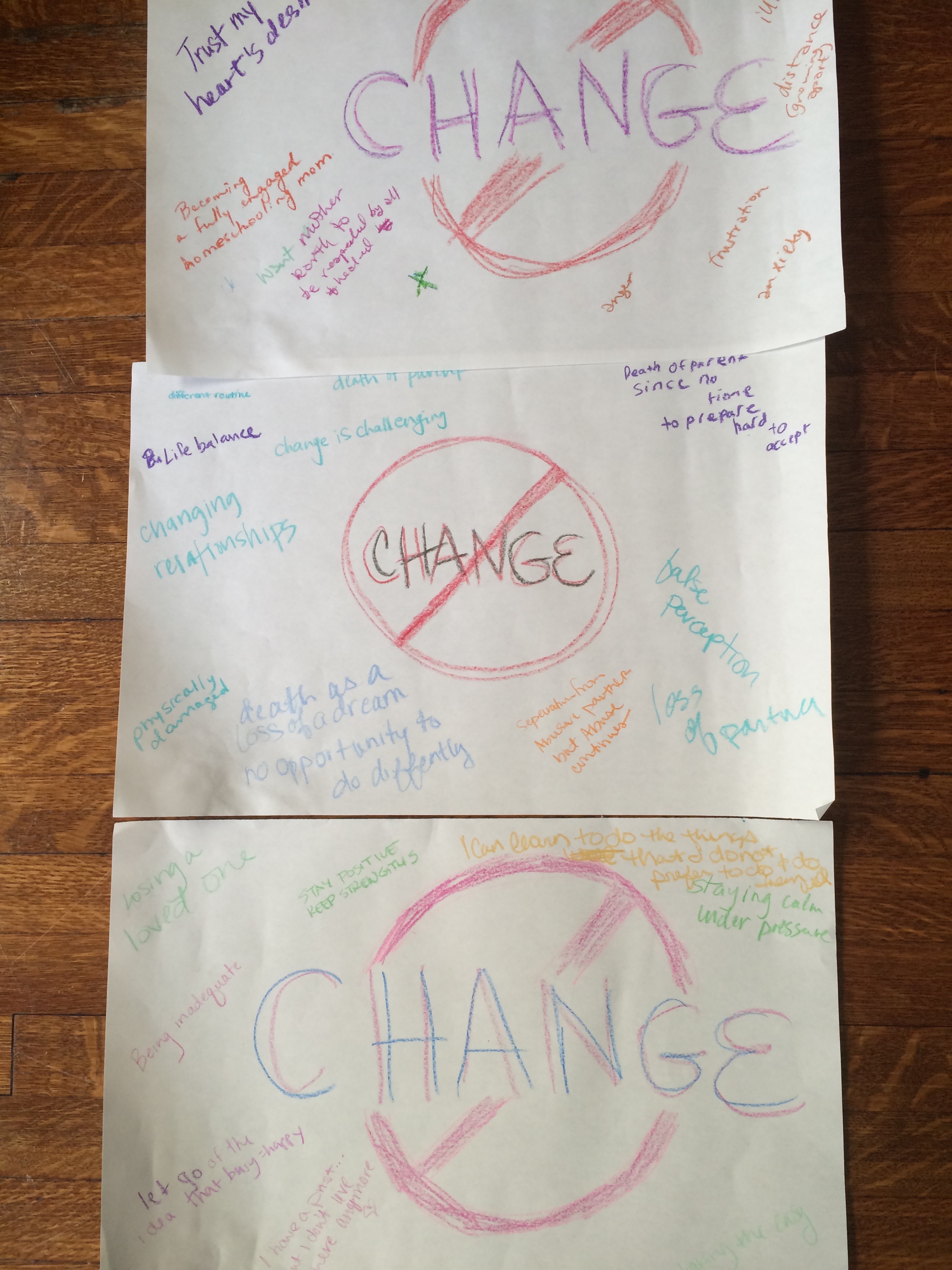 What if right now you got out a paper and pen and did the same exercise? Consider how you have handled change in the past. Write down how you have resisted or embraced changes that have happened to you or that you have manifested. Bless your additions to the words above. Hold space for how we all are on this journey. Create your own mantra on how you want to encounter change. Then silently do some stretching or yoga staying conscious of your breath and any judgements placed on yourself (and others). After moving take a quiet seat. Empty your mind. Breathe.
Blessings on going with the flow of your life.